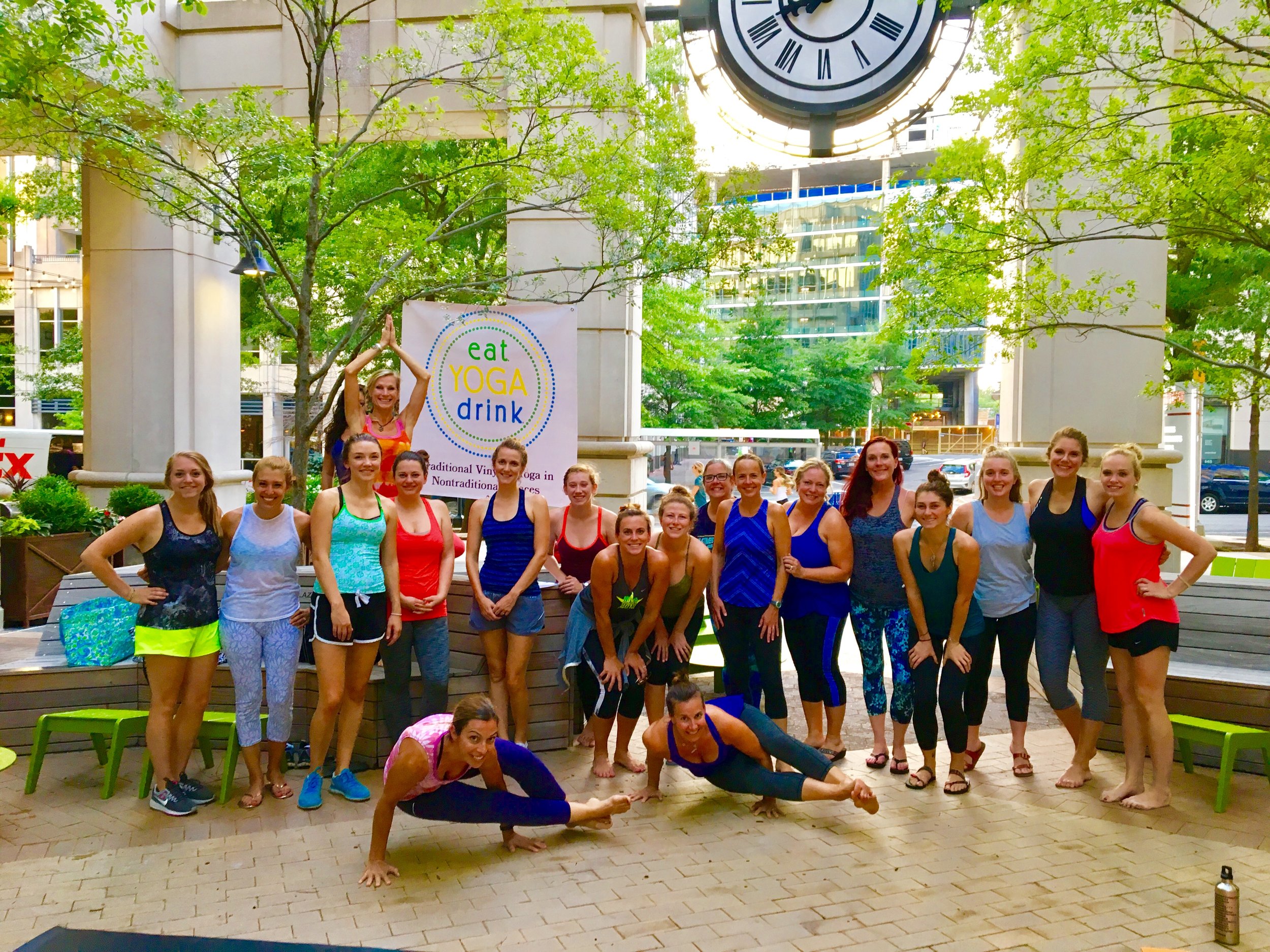 My Yoga Philosophy:
Yoga is for EVERYbody
I've chosen to primarily teach yoga in nontraditional spaces as a way to make the practice more accessible and affordable for everybody--EVERY BODY!!
My students are men and women of different ages and sizes, all united with the common goal of mindfully linking breath and movement in a fun atmosphere. Whether you are new to your mat, or looking to deepen an existing practice, I will help you build mental and physical strength and balance so you can go off your mat and into the world with resilience and grace.
I also believe in the healing powers of yoga and mindfulness and enjoy offering these practices in private settings to kids, teens, and adults who seek a stronger mind-body connection. Yoga and mindfulness are great tools for recovery from the physical and mental demands of competitive sports, stressful occupations, and life in general. Please join me on the mat soon to share this energetic enlightenment.
Here is what Sage Rountree, Ph.D., ERYT-500, and author of Everyday Yoga says about my teaching:
"Erin's teaching is friendly, accessible, and inspiring, which is perfect for her mission of bringing traditional yoga and mindfulness to people in nontraditional settings. Her uplifting attitude engages her students as she meets them where they are. Take a class with her and you'll feel this connection!"
Here is what my students have said about their experiences in my class:
"I attended my first yoga class with Erin this week and it was really great. I'm definitely a beginner but have tried many classes through the years. Erin's was one of the best ever. She's a gifted instructor and her class is doable for newcomers or challenging for experienced practitioners. Erin's yoga knowledge, great personality, lovely voice and focus on the present combine to make it an excellent experience." --Mindee
"I never would have imagined myself enjoying yoga until the opportunity to become one with the mat was matched with the pleasures obtained by carefully brewing barley, hops, and yeast in water! I'm glad the world has married these experiences; the two are quite a pair as they elicit a sense of euphoria. Give it a try especially if you've never imagined you on the yoga mat - you won't regret it! As for the instructor, Erin is a well rounded and talented yogi. She helps guide her students of all experience levels through the session making it easy for you to relax and to find your confidence." --Tim
"Through her classes, Erin has helped me discover a calmer, more courageous, and stronger version of myself." --Kathryn